Vietnam adventure, day 1: the Saigon experience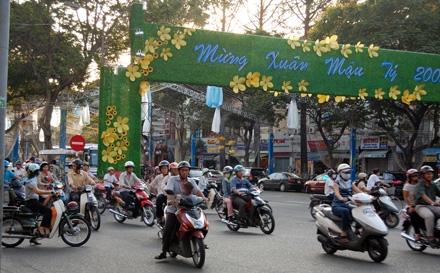 Saigon is pure madness. Trying to cross the street is a life-threatening challenge. But somehow it works. And in some strange way the city has a certain charm in all its noisy, dirty chaos.
Gitta and I spent nine days in Singapore, and upon arriving here I realized Singapore really is "Asia light". In many ways it could be a European city (disregarding democracy issues and people looking a bit different). You recognize the names of the stores, things move smoothly, it's clean and people respond in ways you can – to some extent – predict. Saigon is quite the opposite.
We had been warned, so I was prepared. But the woman rolling her eyes and pretending to be asleep when we wanted to get a pre-paid taxi from the airport still surprised me. What's in it for her, being that rude?
We had dinner near Benh Tranh market today, at a place recommended in Lonely planet. My food was quite good, but Gitta got some meat that didn't quite look like the beef it was stated to be.
Tomorrow we'll explore more of the city, including the war museum with its gruesome display of mutilations, napalm victims and other things all too real displaying the darker sides of humanity.
Booking hotels online has turned out to be a bit more tricky than I expected. Even with a confirmed reservation, you are not sure to get a room at the hotel you booked, it seems. For Saigon we used hostelworld.com, and booked a room at Bach Dang hotel. But when we arrived they didn't have our reservation. I showed them the confirmation, and they appologized and gave us some coffee while they tried to sort it out. Eventually we got a hotel on the other side of the street, which was probably an upgrade. Our room at Linh hotel is very big, with two queen size beds, a nice bathroom and a balcony. Me like!
After some hassle it also looks like we've got a hotel and transfer for tomorrow, when we are flying to Da Nang. We are to stay at the Palm Garden resort outside Hoi An. Looking forward to a relaxed resort life for a few days!